More Than Just Taking a Message.
More Than Just Taking a Message.
Feb 16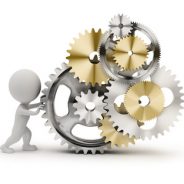 I often attend networking meetings where my clients speak about the Answer-it service to other people (usually when introducing me to someone.)  I quite often hear them say 'they do more than just taking a message.' 
Being on the inside it has made me stop and think about what we actually do beyond the mechanics of simply answering the phone on behalf of our clients and relaying a message to them
We Answer The Phone and….
It is true we do answer the phone when you need us to.  So when you are out, need overflow cover, holiday cover, business continuity cover or just an extra pair of hands to manage your calls so you are not disturbed.
We also send items out by post for some of our clients.  Application forms, catalogues and invoices.
Some clients like us to use their diary and book in appointments for them.
However what we actually do is so much more.  We help each business we answer for continue their marketing message, far beyond their website or printed collateral.
We offer continuity to this message.  The business is contactable and approachable.
Those Who Don't Answer The Phone.
In stark contrast to those who either don't answer their phone, rely on voicemail or use an automated system.  Surely there is no stronger oxymoron than listening to a recorded message for the umpteenth time telling you how much the company who you are calling 'cares.'  You know they really don't otherwise they would be talking to you rather than keeping you on hold. The same with the voicemail 'Thanks for calling'
So in fact it isn't what we physically do that is as important, as the result of what we do, and how we do it.