Two Global Brands – One Big Difference
Two Global Brands – One Big Difference
Oct 19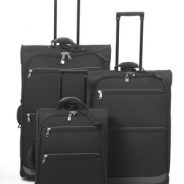 It's fair to say that on this last trip to the USA we have done some travelling. We have changed plans which has involved plenty of driving and changing hotel reservations. We have experienced the most excellent customer service. However at the time of writing we are sat at San Diego Airport, willing the airline we are travelling with to give us an update. On when we might expect an aircraft to appear and spirit us back to the UK.
No one can control the weather and this is what is taking the blame. Communication is seriously lacking, initially it was forthcoming albeit brief. Flight has diverted to LAX and we will update you later. Later comes and goes and then we are told 'They' are talking to the captain and 'They' will let us know. (Who are 'They?')
Having had a few conversations with friendly TSA staff as well as kiosk owners no one has declared the weather 'bad.' More worryingly is that the flight we are waiting to board showed as arriving here at SAN some hours ago…..
We booked this airline and their 'Premium' product, having used another airline's similarly branded service. On the outbound portion of this flight I must say I did puzzle and wonder over what was Premium  + about the service we were receiving. In contrast with the A N Other airline that offers a similar product there was no dedicated check in, there was no pre boarding (to speak of) there was no pre take off drinks, there was no different meal choice from our comrades in the ranks of basic economy. I did find and old magazine abandoned beside my seat. Was that it? Was that the +? There was indeed a very good article that I did enjoy inside.
We have just been comfortingly assured that the flight we are waiting for is going to be coming in from LAX once the get ATC clearance. Also been comfortingly reassured that our flight will leave 'At some point' forLondon
Compare and Contrast
So compare and contrast with a famous hotel brand. On arrival we were greeted, offered a drink of water, and generally greeted as old friends. We were asked what time we would prefer housekeeping. Huge apologies our room was not ready but it was being serviced and we were welcome to use all the facilities etc. We had friends staying in the same place so simply went to their room and sure enough within the hour as promised we had a call to say our room was ready. A quick elevator ride to the front desk and keys were in hand. Lovely touch here was that the staff member didn't just hand / shove the keys across the desk to me. She walked around the desk she walked part way t the elevator with me making sure I knew where I was going and asked if I needed anything else at all.
After getting into the room we decided to waste no more time and get to the pool and soak up some rays. The pool was small and part of a much larger complex (we were welcome to use) It was beautiful! We were greeted poolside, asked if we wanted sun / shade, taken to some loungers, towels were laid out for us. I am pretty sure they would have picked you up and laid you on it too had you asked! The great service continued, a jug of iced water materialised and plethora of frozen fruit and other goodies was brought round as well as cold towels or Evian spritz, just in case you look too warm. (Well with temperatures of 101F you would wouldn't you!)
All very nice you say…..
So what really put the icing on the cake for this brand I hear you ask. Well we only stayed 3 nights but had such a fabulous time, we changed our plans and drove 300 odd miles back there the following weekend. We got a great rate and on arrival the Valet recognised us, welcomed us back, we got to our room and were greeted by a lovely hand written welcome back card as well as some cupcakes. Later in the afternoon the manager even called the room to welcome us back personally. She noted we had, had a small issue with the wifi connection and that she had spoken to the IT dept prior to our arrival to check everything would be ok. (It was)
On our second night we had an issue with the bath and shower drains. It was resolved very fast and with huge apologies and contingency plans in place.
Even the house car driver remembered us and asked how our drive had been, and how the interim part of our vacation had been.
Everything during the 2nd stay more than matched our experience of the 1st stay. The concierge had arranged show tickets for us and even got us in to a very popular Sold Out show. When we checked out there was minimal fuss, the valet organised the car, the Bell Captain whisked away our luggage and loaded it and by the time we came out to the car, it was running with the air conditioning comfortable, 2 bottles of cold water set up. The door was opened for each of us and we were soon on our way. All staff wishing us well and looking forward to seeing us again soon.
You might not think this a fair comparison. Airline to Hotel and all that this may imply and the logistical differences. BUT the crucial thing to note is that it's the total an utter lack of communication from the airline that is frustrating. That is causing angst for passengers that have connecting flights. That for some of those in the know they are wondering why a flight travelling a mere 35 mins has been refueled, when it is unable to land fully fuelled. Why they won't make it clear the flight has not left LAX yet. Why they haven't made it public knowledge that if the flight does not arrive here shortly we will have to spend the night here in SAN.
Communicate
I bang on and on and on about this all the time. COMMUNICATE please, it helps it makes your customers feels valued, appreciated even. Whatever you do keeping them in the dark and even telling lies is not productive and is damaging. I now remember WHY I haven't flown with said airline since 2002. I think it will be at least another 9 years before I try them again. If not much, much longer!