Lights, Camera, 2011!
Lights, Camera, 2011!
Dec 31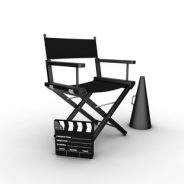 The Wasteland of Abandoned Ideas and Ideals
New year resolutions, you know the how they go.  Make them on New Year's eve and before the end of the first week of January they are left in the wasteland of abandoned ideals and ideas.
So this year rather than making resolutions, I have been looking back over notes I have made while listening / reading inspirational speakers or business experts.  I intend to change some basic things and do that really crucial thing 'Take Action'  I know personally I have all sorts of great ideas but rarely take action. 
2011
So 2011 is my year for action, but small things first, smallsteps, making  progress by doing a little bit at a time.
A time for moving on, moving forwards, onwards and upwards!  So that chair you see in the picture above is mine.  I'll be calling 'Action' in my business.  It's all going to be about action not reaction!
Duncan Bannatyne's drop of Wisdom
Last year Dragon's Den Duncan Bannatyne warned that 2010 was the year of danger of British business and that a lax attitude towards the recession and thinking the worst was over could be a huge mistake.  This year when I asked him for his thoughts on 2011 his advice was clear. 'This is the best time to advance in business whilst others bemoan the credit crunch, put your head down and get stuck in.' So this is also my intention!  Thank you Mr Bannatyne for your kind words of wisdom once again.
So my best to you and your business for 2011, and if www.answer-it.co.uk can help you, then let me know.