Telephone Answering Service Vs Auto Attendant (Press 1 then # to continue…..)
Telephone Answering Service Vs Auto Attendant (Press 1 then # to continue…..)
Aug 12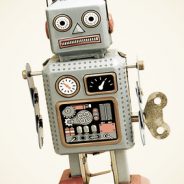 Auto Attendant – Your Thoughts
I recently started asking people for the their thoughts about 'telephone auto attendants.'  You know the ones, you either have to press a series of buttons and listen to seemingly never ending menus,  if it is a really fancy system you can speak to the robot and it is meant to recognise what you need.  More than likely it can't understand you if you have any sort of accent, speak too fast, soft, slow or any other variation along the same theme.
I got some strong and passionate responses to the question, including  'Any business serious about customer service shouldn't use a telephone auto attendant'  In fact someone responded 'They should be banned.'
Why do you make me feel this way?
We agreed, but the question remained – what is it about the telephone auto attendant that makes us feel this way.  It seems that when the auto attendant picks up the phone the immediate thought is that the caller is going to be placed on hold for a long time.  The other fear was that of sucessfully navigating through the auto attendant menus and then being cut off for no apparent reason.  The frustration then builds and  the  caller then feels that they are wasting their time.  It is clear that callers feel that when they call a business using a telephone auto attendant that they are not getting a good customer service experience and that the business they are calling simply does not care.
Customers want to speak to a real live person that can either help them immediately, connect them to who they need to talk to or feel confident in that leaving a message with a real person that the right person will call them back and assist with their enquiry
There is a solution!
Answer-it started working with a client recently who had made the decision to move away from their telephone auto attendant.  The feedback they have had from callers to their business has been very encouraging.  People are relieved not to have to navigate (what they confess was,) a confusing system.  This particular business has found a solution and are pleased to have made the change to using a telephone answering service as their solution.  If the caller cannot be helped immediatley or connected to the relevant person, then a detailed message is taken and forwarded and the caller gets a timely response to their message.
Technology a step too far?
So  has technology gone a step too far.  Should  customers, reasonably be expected to speak to and deal with robot's.  My sales experience  tells me that people buy from people, and my customer service experience tells me that people like to deal with people, you simply can't beat the human touch.  So ditch the auto attendant! and join the 'Answerettes' at Answer it in their newest mission to 'Beat the Bot.'