Interruptions / Attention Management
Interruptions / Attention Management
Feb 10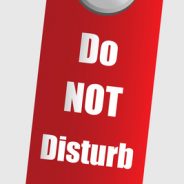 Getting this blog post written has proved a reasonable challenge, in the best tradition of cliché I have wrestled with many interruptions!
All of us are bombarded with interruptions on a day to day basis and with the rise of portable technology it seems there are fewer places, if any to escape to.
Email, phones ringing, instant messages, pagers and sms alerts are just some of the interruptions we all have to deal with.  In today's fast paced world time is our most finite resource.  It is a great equaliser no one anywhere in the world has more than 24 hours each day to utilise.
It has been estimated that interruptions consume almost one third of our working day. Of course an interruption is by definition  'an obstruction or hinderance' in reality it is nothing more than an unexpected event. (This is where the 'Attention Management' bit comes in)
Many people categorise interruptions into two categories good (when I do the interrupting) or bad (when I am interrupted.)  However more scientifically interruptions can be categorised as follows.
Total Interruption – eg a telephone conversation – in this instance no focus at all remains on the original task
Dominant Interruption –  eg a walk –The original task is allowed to develop at the back of the mind
Partial Distraction – eg Instant messaging – Attention is drawn away from the original task letting it proceed more slowly and less accurately.
Background Activities – eg listening to music – Without the intensity of the above but still affecting progress.
How we deal with interruptions is also important. Many of us (aprox 73%) deal with them immediately to get them out of the wayand experience a sense of closure.  Although this is admirable, the original task we were dealing with is bound to suffer.  The most disruptive Total Interruption occurs in one of two forms, either in person or over a communications medium such as Email SMS or Telephone. 
Franck Tetard of Institute for Advanced Management Systems Research, Finland. Produced the Interruption Process Model, a complex piece of research which highlights the effects of interruptions.
Research suggests that more than 60% of interruptions can add between 10 minutes and 1 hour to someone's workload.  The recovery time after the interruption, depending on the intensity of the interruption and the original task, in nearly half the cases, was between 5 minutes and 30 minutes.
The impact on all sorts of businesses is clear, time is being lost through interruptions.  Accountants I am sure could do without telephone interruptions throughout January.  Designers could do without interruptions while doing what they do best or while preparing a presentation, Electricians, Plumbers, Carpenters, Builders, Tree Surgeons all need to focus on the task at hand or the consequences could be terrible.
The most pressing of these is the telephone.  Not least because of the noise it emits when demanding your attention, but the thoughts that go through your head before you answer. Is it a potential customer, it is an existing customer, is it a sales call, is it a recorded message…. The possibilities are endless.
If you would like this Total Interruption taken care of the and help with your 'Attention Management,' the team at Answer-it  (recently dubbed 'The Answerettes') are ready to be interrupted!  http://www.answer-it.co.uk