Charity
Proud to Support MAGPAS
Answer-it is very proud to be supporting MAGPAS.  We are doing this in a practical way by taking overflow calls for the main office.  This means that when the team in the office are under pressure to meet deadlines we are there to help.

MAGPAS stands for Mid Anglia General Practitioner Accident Service and was concived in the 1970's by Dr Neville Silverstone MBE.  The Acronym is a little outdated. Rather than Mid Anglia MAGPAS actually serves the entire East of England and at night the MAGPAS Helicopter is the only one covering the entire UK. 
Magpas recieves NO Government funding and is NOT part of the NHS
MAGPAS The Difference.
There are many charity run Air Ambulances across the country BUT the difference with MAGPAS is this -: The Teams are made up of Paramedic's and specialist Doctors.  MAGPAS Brings A and E to the scene FAST using either the MAGPAS and Police helicopter or rapid response land vehicle.  This speed means that lives can be saved.  Time is always of the essence and really does make a huge difference.  MAGPAS Medics are made up of all sorts of Doctors including some who have seen active service in places such as Iraq and Afghanistan and are from all over, not just the county, but also the country.  The Helimedix team are based at RAF Wyton.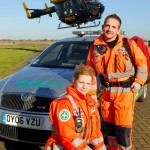 The cost to run the service is phenomenal and if the medics charged for their services the cost would certainly run into millions!  However as all the medic's are volunteers the cost to run the service for one year is around £610,000.
Imagine Just for a Moment
So just for a moment imagine the scene.  It's cold it's dark you are trapped perhaps in your car. someone has dialled 999 and the paramedics are on the way.  Your injuries are severe and as you are in the East of England the NHS team dispatched are able to call upon the MAGPAS Medics.  You are stabilised at the scene and taken to a specialist hopsital able to deal with your injuries effectively.  In some cases the MAGPAS team will continue to treat you once you arrive to the hospital. 
It really could be you, and what would that picture look like if MAGPAS were not in existence?  Take just 50 seconds and watch the video.
There are lots of ways to help visit MAGPAS if you would like to help, there are lots of ways you can.